Chiropractic Testimonials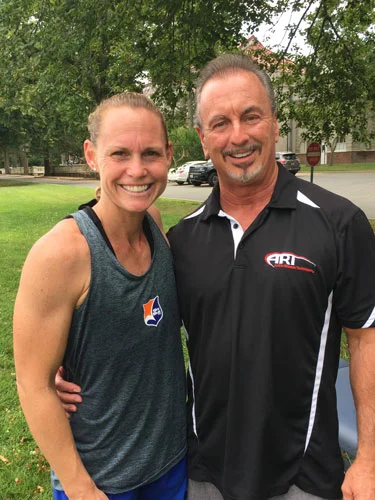 "As a Head Coach of a professional women's soccer team I fortunate enough to work with World Class Athletes. These athletes are at the highest level of their sport and it is important that they are provided world class treatment on a consistent basis. We have been working with Dr. Criscuolo for the last 4 years, his knowledge and attention to detail has been a huge reason that we have been able to reduce the risk of injury for our players. Dr. Criscuolo has continually shown on a daily basis why he is at the forefront of Active Release treatment, his caring demeanor and commitment to every players health coupled with a very professional approach gives me the confidence that our athletes are in the best possible hands. We can not thank Dr. Criscuolo enough for everything he continues to do for our players."
- Christy H.
---
"It is with great pleasure that I write this summary of Dr. Criscuolo's work with the Princeton Women's & Men's Teams on the Active Release Techniques®(ART®).
The Princeton University Women's and Men's Teams are elite level, Division I, NCAA All Americans in swimming and diving. Many of the athletes that come to Princeton arrive with shoulder, knee or back problems caused by years of improper technique and neglectful coaching. The foundation of our swimming program has been to make these injuries "go away" by teaching proper technique and rehabilitating the injured area.
Dr. Criscuolo has worked with the Princeton team for two years now. He has seen over a dozen swimmers, male and female, each year. We have had a dramatic increase in recovery since his work with the team. Many athletes have had complete recovery from shoulder tendonitis that other doctors had said would end their careers. We have athletes training in the water without pain that were never able to train before. The visible difference in strength before and after a treatment is incredible.
I support Dr. Criscuolo's work 110%. It's proven to work for our athletes and is a great and easy alternative to avoiding unnecessary surgery. I find Dr. Criscuolo a great motivator for athletes distraught about injuries that have plagued them for years. His professional manner and treatment encourage athletes that they can recover over a period of treatments. I thank him for putting athletes back on the deck of our pool whose careers would be over without him."
- Susan T.
---
"My occupation at the time kept me on a keyboard for eight hours a day. I began experiencing pain after about 4 months on the job. The pain started in my right wrist. I went to an orthopedic surgeon and he then sent me for an EMG test. The results of that test confirmed a compression of the nerve and the diagnosis was carpal tunnel syndrome. I was then advised to try a couple of months of physical therapy. I tried this but it was of no help. The pain kept getting worse and worse and I was finally forced to start using a brace. At this point I was advised that I could undergo arthroscopic surgery. I was not offered any other solutions. I was operated on and then underwent more physical therapy to regain what I had just lost.
Several months later the pain came back with a vengeance. It got worse faster than before and as an added bonus, I developed it in the left wrist. I was sent to a different doctor who sent me for the EMG test again and an MRI of my wrists. The tests showed no improvement on the right side post surgery, and now I developed nerve compression on the left. At this point the doctor could only offer me more surgery. This time it would be an open cut and there were no guarantees as to it's success. At this point I figured that surgery did not fix it the first time, then there was no way I was going to do it again. So I lived with the severe pain. I was then contacted by my insurance company, of all people, to see how I was. I informed them that I was once again in great pain only worse than before.
After some research, my agent suggested I try Active Release Techniques®. I was sent to a chiropractor, Dr. Criscuolo, for this treatment. When I first saw him I was wearing a brace on my right hand and close to wearing it on the left. I then began a very intensive treatment that began at 3 times a week. Gradually, as I improved, the visits decreased to 2 times a week, then one, then none.
After the pain was just about gone, he sent me for a repeat MRI and EMG. The results this time showed a marked improvement. I went from a debilitating condition to an occasional annoyance. If I use a mouse or keyboard I might have some discomfort once in a while, but it is something I can most definitely live with considering where I was when I made my first visit.
The only regret I have is that I was not made aware of this technique when my condition first appeared. If I was made aware, I could have avoided surgery. My life would have been filled with much less pain. If you think you have this condition, consult your doctor. Then inquire about Active Release Techniques®. This technique works. I was a very severe case and it literally saved my life."
- Howard F.
---
"I am a competitive swimmer and I swim 3 hours a day on average. About five years ago I started having pain in my shoulder. The pain in my shoulder is piercing and restricts my flexibility and strength. I went to my primary care physician, an orthopedist, and a number of physical therapists.
I had x-rays and ultra sounds, but they proved inconclusive. The treatment that I received from Dr. Criscuolo 3 _ years ago allowed me to continue to train and compete. My pain is sometimes recurring and I still visit Dr. Criscuolo several times during the year to enable my training to continue.
Even though my family moved away from the New Jersey area to Maine, I still return to Dr. Criscuolo's office. The Active Release Technique has allowed me to continue to swim without pain."
- Emily W.
---
"I'd like to spend a few minutes to share my experience with Dr. Anthony Criscuolo and the Active Release Techniques® (ART®). First, I should explain both the type and amount of training that we do at Eastern Express Swimming.
We are a competitive swimming program and are a member club of United States Swimming. We develop swimmers from the age of six through college, and as our swimmers reach high school age, they train quite heavily. Our high school age swimmers spend between 14 and 22 hours per week in the pool (30 — 50 miles) and another 4 hours per week doing strength work out of the pool.
The majority of injuries that occur in our sport are stress related and this is due to the number of limb and/or joint repetitions that occur in a particular stroke movement — as many as 30,000 per week. Probably 80-90% of these injuries occurs in the shoulder and knee joints. Swim coaches worldwide have for decades searched for ways to avoid the common swimming injury known as "swimmers shoulder". At Eastern Express, the number one priority of our strength program is injury prevention, but there is no possible way to prevent all of our injuries.
When I first heard of ART® two or three years ago, I was a bit skeptical. Based on the rehabilitation that we had previously followed through orthopedic type programs, I was accustomed to having our athletes spend weeks or months in rehab, and in some cases go to surgery. The idea that our injured athletes could be back at full training within days seemed too good to be true.
In May of 1994, I took part in the first U.S. Swimming national team coaches meeting at the Olympic Training Center in Colorado Springs. One of the presentations on our agenda during the weekend dealt specifically with Active Release Techniques®. Dr. Mike Leahy, the creator of ART®, gave a presentation that was both excellent and easy to understand. Dr. Leahy also had the opportunity to demonstrate the technique for us. Dady Vincent, a member of the Fort Lauderdale Swim Team who was attending a training camp at the OTC, had not been able to train at full capacity for some time due to a nagging shoulder injury. After Dr. Leahy spent about five minutes treating Miss Vincent, we were all able to see an immediate strength gain and Dady felt an immediate reduction in pain as well as a significant increase in range of motion. I think it is worth noting that Dady went on to qualify for the US World Championships team three months later in August.
Upon my return from Colorado Springs I contacted Dr. Leahy to find out if there were any doctors in my area who are certified in ART®. Fortunately for me and my athletes, Dr. Anthony Criscuolo, one of only three of Dr. Leahy's certified instructors, is only an hour's drive away.
Dr. Criscuolo began working with about 10 of our athletes in late June. Their individual situations varied from range of motion limitations in specific joints to a 12 year old girl who had had surgery because her orthopedist had told her family that her joints were not made for swimming. We have seen terrific results.
The young girl who had the surgery is at this time swimming 60-70% of her workouts where prior to seeing Dr. Criscuolo, she had been limited to kicking for nearly a year. Andy, a high school senior and our most high profile swimmer, was one of our athletes who was facing periodic bouts of shoulder pain due to his high volume of training and a very old injury that had occurred years before. After Andy's second treatment, his shoulder was pain free and he was able to train through the remainder of the summer season without limitation. Andy narrowly missed qualifying for the US Pan American Games team by one place, and I don't believe he would have been that close without Tony's help.
I want to thank Dr. Criscuolo for the help he has given Eastern Express athletes. He is very knowledgeable about how the stresses of our sport affect the body, and his mannerisms and professionalism make him very easy to work with. I look forward to a long and successful relationship between Eastern Express Swimming and Dr. Anthony Criscuolo."
- Todd K.
---
"My ordeal started in June 1999 while working in an attic. I hit my head when I stood up in a small space. Nothing too extreme, or so I thought. Within the next week I began to feel discomfort in my shoulder and down my arm. The discomfort turned into pain and became so severe I was taken to the emergency room at 4:00 a.m. on Thursday, 6/17/99. On Friday, I called my primary physician. Although I was unable to work, couldn't sleep, sit, stand, or even breathe without difficulty or pain, my doctor didn't want to see me. He referred me to an orthopedic doctor.
After two different names, I finally found one able to see me that day. He did a quick exam and x-ray. He moved my arm up and down, pushed on my head and injected my shoulder with a novocaine-like medicine. When no relief came, he suggested the pain was probably in my neck. He then stated to come back in a week and if necessary, he would set up an MRI. The only pain medicine I had was from the hospital and that bothered my stomach. By Monday, I took it upon myself to set up the MRI. I could not wait another week to determine the cause. The MRI was set for Friday, 6/25/99.
On Thursday, I was rushed to the hospital again. On Friday, I was taken to get my MRI done. I took the films with me to hand deliver to the orthopedic that day so not to have to wait over the weekend. Unfortunately, the doctor left early that day. I would now have to wait until Tuesday, when the doctor returned, 6/29/99. On Tuesday he read the MRI, which showed two severely herniated disks in my neck and some compression on my spinal cord. Well this explained the cause of my pain. I thought, now at last they can treat me and get me some relief. Wrong. He suggested I see another orthopedic who specialized in neck pain and injuries. Also I would likely need to seek relief from a pain management facility. However, neither would be available until July 14 and July 22 respectively for consultation only. I was provided with no further advice, treatment, relief, nothing. I left in severe pain to wait 2 more weeks.
Finally, on July 13 a friend suggested I visit Dr. Criscuolo. He saw me that day. He did a thorough exam, reviewed the MRIs and started treating the pain immediately. Having been to several chiropractors in the past, I half expected to be left in a room with heating pads and electrodes hooked to my back. That was not the case. Dr. Criscuolo treated the muscles and pain points directly. His advice and recommendations were clear. His treatment was professional and accurate. With no exaggeration, I felt immediate relief from the pain, and that evening I felt so much better, I sat up and read the newspaper (something I could not do that very morning). With each visit, I felt more and more relief. Within 3 weeks, I was released to go back to work."
- Gary L.
---
"Best sports chiropractor in area. The guru of active release."
- Jim M.
---
"The doctors are so professional and welcoming. After two or three treatments, I feel amazing. I have been coming here for years and would not go anywhere else. It is really life changing to be able to feel pain free after treatment."
- Sarah W.
OFFICE HOURS
Monday
8:00am - 7:00pm
---
Tuesday
8:00am - 7:00pm
---
Wednesday
8:00am - 7:00pm
---
Thursday
8:00am - 7:00pm
---
Friday
8:00am - 6:00pm
---
Saturday
8:00am - 12:00pm
---